Our Dentists
Early in our lives, we were surrounded by many health professionals in our family. From physicians to nurses to nurse theorists, these experiences have been ingrained in our upbringing. Prior to the two of us, no one in our family has been a dentist. But the mentality of helping others has always been a motivating factor in our development.
When we both chose the field of dentistry as a profession, it was just a matter of time before we would join together to create Rizzo Dental Group.
"I think what sets our office apart from other offices, is the family atmosphere that we have created. We really want to create a personal relationship with each and every patient." Explains William Rizzo. "This not only creates a feeling of relaxation for my patients, but it also is very rewarding for me when I can change a person's outlook toward dentistry."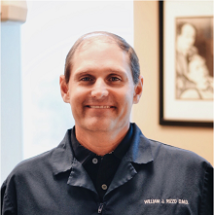 Dr.William Rizzo DMD
(Dr. Bill)
University Of Pittsburgh School Of Dental Medicine
Dr. Rizzo offers all phases of dentistry. He has advanced training in cosmetic procedures including laminate veneers, cosmetic crowns and Invisalign invisible orthodontia. At our office we offer Nitrous Oxide analgesia (laughing gas), to help the more anxious patients. Dr. Rizzo also performs more complex procedures such as wisdom teeth extractions and root canals, alleviating the need to "refer" to specialists, in most cases.
Educated first at the Virginia Polytechnic Institute, where he obtained a bachelor degree in finance, Dr. William Rizzo then graduated from the University Of Pittsburgh School Of Dental Medicine, and chose to complete a one year general-practice residency at the Veterans Affairs Hospital in Pittsburgh.
"That was a very rewarding time for me", Dr. William Rizzo said. "I was given the opportunity to help veterans from World War II, the Korean War, Vietnam, and even Desert Storm. My grandfather is a decorated veteran from World War II. He earned the Purple Heart and Silver Star, so I was able to talk with a lot of these men and relay stories about my grandfather as I listened to them. It was a great experience for me." In addition to the gamut of conditions Dr. William Rizzo faced with such a diverse group of patients, he and the other practitioners conducted frequent health fairs, at which, in one day, they would screen between 300 to 600 people for oral cancer. As a result of early diagnoses, many lives were saved.
Dr. William Rizzo and his wife Tracey relocated to Orlando in 1998, and he began working as an associate dentist in established offices. After gaining practical experience in an office setting, Dr. William Rizzo knew the type of dental practice he wanted to open. He assembled an experienced staff of dental professionals; equipped his office with state-of-the-art technology; established relationships with many major insurance carriers; and transformed the office space into a warm, inviting place where people of all ages could go for high-quality, yet reasonably priced, dental care. Dr. Rizzo has been married to his lovely wife, Tracey, since 2000. They have 3 beautiful daughters, Callie, Reilley and Rymer Jean. Dr. Rizzo is an avid golfer and skier. He also enjoys spending time at the beach with his family.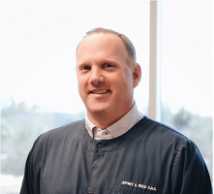 Dr. Jeffrey Rizzo DMD
(Dr. Jeff)
University of Pittsburgh School of Dental Medicine
In the office he offers all types of dentistry from simple tooth colored fillings to more complicated procedures such as crowns, bridges, root canal therapy, implants, veneers and Invisalign. Dr. Rizzo enjoys all aspects of general dentistry and he regularly participates in continuing education with a particular emphasis in cosmetic and implant dentistry. When he is not working at the office he enjoys spending time with his wife Lisa and their 2 children Franklin and Mackenzie.
Dr. Jeffrey Rizzo graduated from Virginia Polytechnic Institute and State University, with a degree in Management Science, and he received his dental degree from University of Pittsburgh School of Dental Medicine. While in dental school he attended additional externships in maxillofacial prosthodontics and implant dentistry.
Upon graduation, he moved to Central Florida and joined a large multidisciplinary dental practice that had specialists in orthodontics, periodontics, oral surgery and endodontics. It was his day to day interactions with all the different specialists and their teamwork like approach to treatment planning that helped him hone his dental skills in all facets of dentistry.
He worked on patients with basic treatment needs to patients who needed full mouth reconstruction. It is this same approach that he institutes in his day to day interactions with all of his patients.